Winter is a great time to catch up on all those interior painting jobs that you've been putting off.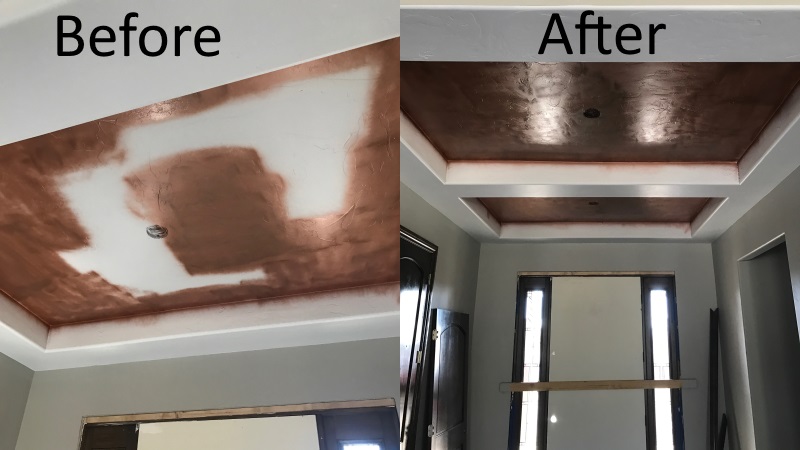 One of the most difficult of all indoor painting jobs is the ceiling paint. Typically, holding a heavy roller filled with paint can cause strain on the arms and shoulders, not to mention splattering a lot of paint around in the process! Plus, it's a messy job. If you don't have everything covered with tarps and other protective measures, your "small" paint job can turn into a nightmare if you get your ceiling paint all over the walls, floor and other wood trim.
Custom Ceiling Paint – Our Specialty
What you see above is a custom ceiling paint project we completed for a client. We had to apply some patches and make up for some incomplete texture in the process as well.
In the before and after picture for the ceiling paint, we still had other trim paint to finish, but the high-gloss ceiling stands out nicely against the off-white and light gray paint that makes up the rest of the room.
Of course, we also specialize in whole-house painting. Winter months are usually a great time for indoor painting projects. And we have an experienced and efficient painting crew to get your painting project done fast. Instead of weeks to paint your home, we typically can wrap up most indoor painting projects in days – for an average-sized home.
We give full price quotes before we start so you know exactly what your painting project will cost.
Need Some Help? Give Us A Call!
If you're in doubt as to how to finish that often-ignored painting project – or you just can't seem to figure out what colors to use – give Confident Coatings a call at (719) 761-5052!